ISO 9001 Quality Standard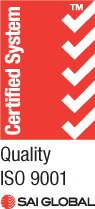 Insight SRC is an ISO 9001: 2015 accredited company.
Insight SRC is committed to exceeding client expectations and increasing client satisfaction through the provision of products and services that bring about sustained improvements in wellbeing, engagement and performance.
We believe that continuous improvement in the design, implementation and management of our products and services is critical to meeting this commitment. We also believe that our people are critical to our success. Accordingly, we are committed to the on-going improvement of our cultural behaviour, and the wellbeing and engagement of our staff, and the quality of the relationships we build with our clients.
We believe that our ISO 9001 Quality Management System assists us in meeting these quality standards.