Quality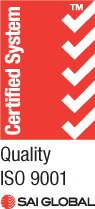 Insight SRC is an ISO 9001:2008 accredited company.
In February 2013, Insight SRC's Quality Management System (QMS) was externally reviewed by SAI Global as part of our triennial re-certification process under the ISO 9001 standard. We are proud to announce that the external auditor re-certified our QMS, noting in his report that "The organisation's approach to the management of the system has been well done with good evidence of compliance at this review and in previous reviews". During the review process the auditor advised that our quality management processes were excellent, and in the top 10 percent of all organisations he has audited.
This is great news for both Insight and our clients, and validates our strong commitment to continuous improvement in everything we do.