Quality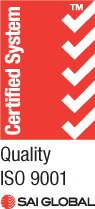 Insight SRC is an ISO 9001:2015 accredited company.
In July 2018, Insight SRC's Quality Management System (QMS) was externally reviewed by SAI Global as part of our triennial re-certification process under the ISO 9001 standard. We are proud to announce that the external auditor re-certified our QMS to the new 2015 standard.
This is great news for both Insight and our clients, and validates our strong commitment to continuous improvement in everything we do.